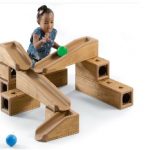 In 2017-18, the Kiwanis Clubs of Niagara donated a set of Community Playthings - Outlast Blocks to 26 Early Learning and Child Care programs in Niagara. Outlast Blocks are specially designed to encourage creative play and child-directed discovery.
This $45000 donation made by the Kiwanis Clubs is contributing to the rich outdoor experiences being offered to children in new naturalized play spaces. Research has demonstrated that children's emotional, social and physical health is positively impacted when they have daily contact with nature. This project partnership with the Early Childhood Community Development Centre will support the opportunities for children in Niagara to connect with the natural environment and reap the important benefits of connecting to nature.
---
The ECCDC extends its gratitude to the Kiwanis Clubs of Niagara for contributing funds and volunteer hours and to Louise Kool and Galt for offering extensive supplier discounts towards the purchase of kit materials.